Information for tour operators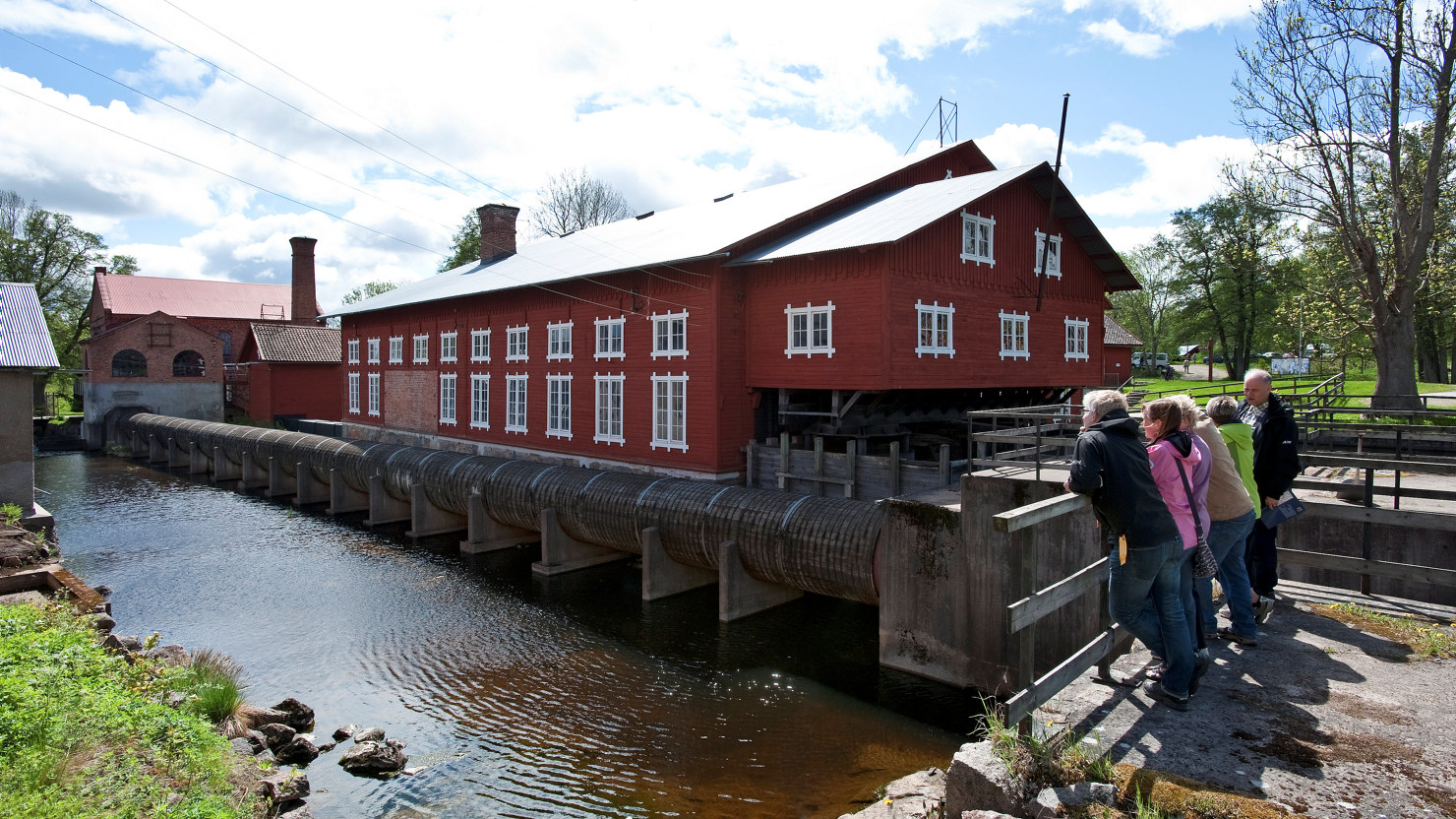 Opening hours 2017

15 May - 30 June: 12:00 - 18:00
July: 10:00 - 18:00
August - 15 September: 12:00 - 18:00
Booked visits all year around.
Prices:
Free admission during our opening hours. Price for guided tours: SEK 60 per person - no charge for bus guide or driver. Forsviks Shipyard arranges guided tours of the paddle steamer Eric Nordevall II, phone +46 (0)505-412 50, price SEK 50 per person
Guided tours and accessibility:
We offer guided tours for groups of up to 40 people. For larger numbers we divide the group into two smaller groups. A guided tour takes about an hour and includes a walk of about 600 metres. Some of the paths are cobbled streets, gravel and grass.
Special tours:
We arrange special tours for people with disabilities, such as a guided tour covering the history of the wood pulp mill. We also offer special trips for different professional groups, such as retired founders and metal workers, building conservationists etc, in which we then focus on the group's special interests.
How to get here:
Forsvik is located 10 kilometres from Karlsborg in north-east Västergötland, by road 202 next to the Göta Canal. You will find the museum at this address: Baltzar von Platens väg 32 - 34,
546 73 Forsvik. The works office is at Bruksvägen 2.
GPS coordinates:
WGS 84 (lat, long): 58° 34′ 36″ N, 14° 26′ 12″ E
WGS 84 decimal (lat, long): 58.576667°, 14.436667°
Where can the bus stop/park?
Buses can drop off passengers at several places: by Kafé Ada, by Elektricitetshuset and by Träsliperiet. There is a parking area for buses by the sawmill, around 250 metres from the café and the entrance.
Restaurant/café - what is offered?'
Coffee is available at Kafé Ada, phone 046 (0)505-411 37 - we can also pass on orders for coffee. Kafé Ada offers ice cream, buns and cakes, sandwiches, salads and hot sandwiches. The café can also cater for lunch guests if they are booked in advance. The area is limited to about 30 people indoors and 40 people outside. Groups may also drink their own coffee if they prefer.
What amenities can we offer the driver?
Bus drivers can use the works office for resting/eating lunch/drinking coffee.
Toilets:
There are customer toilets, including a disabled toilet and a baby changing table, by the entrance to Träsliperiet – about 80 metres from Kafé Ada. Forsviks Bruk is also a fantastic place for bus passengers to stretch their legs - so take the opportunity and have a break and a short walk!
Exhibitions:
- Permanent exhibition in the Wood pulp mill - tells the history of Forsviks Bruk, with an emphasis on technical developments and production at the works. It also includes a slideshow about the history of Forsviks Bruk.
- Casting models in Elektricitetshuset - shows a selection of the tens of thousands of casting models from Forsviks Bruk and describes how the casting process works.
- Women's stories in the workshop - give an account of life around the works. A historical overview of the importance of women in the industrial community.
- Forsviks Bruk's renovated truck - a Chevrolet HS from 1934.
- Light and power in Elektricitetshuset - an exhibition about electricity and lighting. The exhibition is on the second floor and is only accessible via a staircase.
Interested in making a few more stops in Västra Götaland?
Västarvet runs activities at a total of six museums and attractions in Västra Götaland: Forsviks Bruk, Gothenburg Museum of Natural History, Lödöse Museum, Crafts & Building Care at Nääs Slott, Vitlycke Museum and Vänersborgs Museum. Click on this link to find information on how to arrange bus trips to our other destinations.
Do you have any questions? Feel free to contact us for more detailed information and assistance in preparing your event.
Updated: 2017-08-01 14:06
Do you have a point of view or ask about the website?
---